The following text is borrowed from my friend Barbara Drady's Affairs of the Vine.
February has always been associated with the color red…Valentines, hearts and love.
The American Heart Association is asking everyone to dress in red on February 5th, National Wear Red Day to raise awareness of heart disease in women.
Red and White Balls take place across the country during the month and we all spend lots of time and money at our local Hallmark store trying to find the right sentiment for the people we love.
So it's not surprising to me that two incredible events focused on RED WINE are happening in February.
If you love Pinot Noir and/or Petite Sirah and will be in the San Francisco Bay Area this month, you are in luck!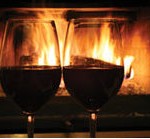 PS I Love You will again be holding their Dark & Delicious Event, an amazing food and wine experience that you do not want to miss. It's on Friday, February 19, 2010, from 6:00 p.m. to 9:00 p.m at Rock Wall Wine Company in Alameda (Kent Rosenblum's new winery).
With 42 preeminent Petite Sirah wine companies and 29 fabulous food companies, this is a must attend event.
Tickets sell out each year, and this year is already showing great promise.  The cost is just $60 per person ($70 at the door if they don't sell out in advance).
Dark & Delicious attracts a small, but passionate crowd each year. Purchase tickets on the Dark & Delicious Event Website in the left hand column. Just scroll down a bit.
If you're passionate about Pinot, this event is also a must!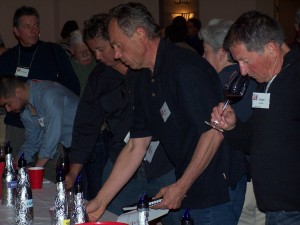 The Pinot Noir Summit, one of the best Pinot Noir events in the world, returns to the Bay Area for its 8th year on February 27, 2010.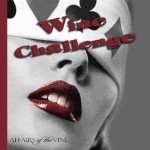 The day long Pinotcentric events begins with The Pinot Noir Showdown, a blind tasting of 40 top-rated Pinot Noirs. Attendees become wine judges for the day and pit their palates against the expert panel, tasting and voting on their favorites.
Following the Showdown, guests may attend two Pinot Noir workshops featuring wine experts from around the country exploring the many faces and facets of Pinot Noir with top winemakers and viticulturists.
The event concludes with a grand tasting as winemakers, proprietors, and winery personnel will share their outstanding Pinot Noirs and a taste of other wines they produce. A fantastic array of hors d'oeuvre will be served.
The identity of the wines tasted at the Pinot Noir Showdown will be revealed. The final results will be announced the Awards Ceremony at The Pinot Noir Summit at 8:00 PM on February 27, 2010.
Osher Marin Jewish Community Center
200 N. San Pedro Road
San Rafael, CA 94903
12:00 p.m. to 8:30 p.m.
Only 250 tickets are available for The Pinot Noir Summit. It has sold out every year, and we expect the eighth annual to be no different. Get your tickets early before they're gone.
Full Day Pinot Noir Summit Tickets (including the Reception & Awards Ceremony): $125 per person
Pinot Noir Reception and Awards Ceremony Only: $75 per person
[SIDEBAR: February is certainly sounding yummy!]